Ric Hinman
, your senior guide and founder of "Lazy Days" Kayak Eco-Tours, is an accomplished waterman, with 30 years experience (and certification in 1978) navigating the Thousand Islands of Cocoa Beach. His love of kayaking throughout these waters prompted him to start his business, so all who wish can discover the magic of the Thousand Islands too. And when he's not guiding guests on a kayak tour, his life "off the clock" looks very much the same...
If you look up "outdoor enthusiast" in a dictionary you may just find a picture of Ric. An environmentalist, outdoor adventurer, and naturalist, Ric's a guy who is into all sorts of active, outdoor sporting adventures. He enjoys surfing and kite surfing, scuba diving, sky diving and, of course, sea kayaking.
Ric is also an avid sailor, who owns his own sailboat and has traveled extensively delivering yachts up and down the Eastern seaboard. He's logged over 100,000 miles in the ocean and has sailed to the Bahamas and numerous ports throughout the Caribbean.
Ric's experiences have given him a broad perspective on life, and a whole lot of great stories to tell. Our guests love his positive attitude and friendly personality. Feel free to contact him if you have any pre-trip or post-trip questions, comments or would simply like to keep in touch! ric@cocoabeach.com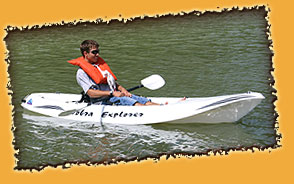 Another guide who has has spent a lifetime in our local waters is Ric's son, Khai Hinman. He is a certified lifeguard for Brevard County, as well as a safe swim instructor. His training includes CPR and advanced life support.
The guides at Ric Hinman's "Lazy Days" Kayak Eco-Tours will always focus on the individual ability and preferences of the customer - making every tour fun!!